IRAS PRO overview
Voice communication for military and civil simulations
IRAS PRO provides a complete communication solution for your simulation environment. The solution is focusing on your tactical training objectives in a simplistic manner. You get a straightforward and intuitive communication panel for the operator and a centralized communication management setup.
IRAS PRO is a radio communication simulation solution intended for military and civil training simulators. It is easy to operate and yet flexible enough to let you set up complex communication plans with any combination of radio and intercom channels.
Achieving your tactical communication goals
Communication procedures are essential in meeting your tactical training objectives. IRAS PRO is designed with this in mind, hiding away low-level radio details that do not contribute to your goals and simplifies setup and monitoring. This approach allows the communication operator to take responsibility for the compliance with the communication procedures.
The IRAS PRO solution
IRAS PRO is a software solution running on standard PCs. As such it is a complete communication solution using the DIS (Distributed Interactive Simulation) protocol for the communication, no other system is needed. The PCs where voice communication is required are the communication stations, whereas the PC for the voice communication setup is the instructor station. From the instructor station the simulation exercise is set up, deployed and monitored.

On the communication station the communication panel will turn up ready to be used, configured specifically for each operator in terms of radio and intercom channels.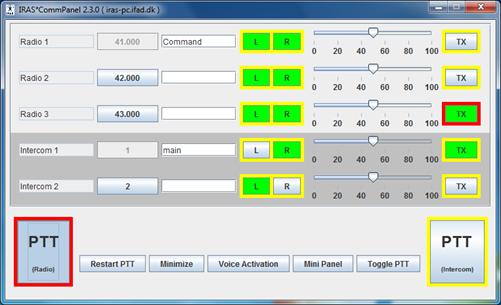 By pressing the appropriate Push-to-Talk button in the communication panel the operator will start communication, which can be either half-duplex radio or full-duplex intercom communication .
As a consequence of the use of DIS or HLA (High Level Architecture), communication will also be possible between IRAS Generic communication stations and third party voice communications stations complying with the same standard. From the instructor station the communication can then be monitored in terms of status of communication stations, who is transmitting on which channel and who is listening to which channels.
Looking for more?
If you want more details about IRAS PRO, please see the IRAS PRO product description here.
If this was not exactly what you were looking for, you could take a look at IRAS Customized solutions, where you also will find a number of use cases of IRAS that have been deployed to our customers.