SteelBeasts Gateway
Enabling distributed simulation
The SteelBeasts Sim Gateway provides a bidirectional link between Steel Beasts and distributed simulation exercises using the DIS and HLA standards.
Architecture
The SteelBeasts Sim Gateway is a central component mapping simulation data between SteelBeasts hosted exercises and DIS or HLA. When connected to a SteelBeasts host the Sim Gateway will automatically adapt to the SteelBeasts Simulation States. The SteelBeasts Sim Gateway provides an additional API to obtain run-time information from SteelBeasts, such as SteelBeasts mode, AAR synchronization data and SteelBeasts player information (player name, SteelBeasts PC and vehicle).
SteelBeasts C2 integration
The SteelBeasts Sim Gateway is delivered as an integrated part of the SitaWare SimGW allowing the instructor to associate SitaWare C2 systems to SteelBeasts PC's (own units) and configure tracking of entities in the exercise to the SitaWare C2 database. GPS and sensor feeds are provided to SitaWare systems attached to a SteelBeasts vehicle.

SteelBeasts in large scale exercises
The SteelBeasts Sim Gateway can be used with IFADs DIS PDU Filter to connect SteelBeasts to large scale simulation exercises with up to 50.000 simulated entities. The IFAD DIS PDU Filter will allow the instructor reduce the amount of entities mapped to SteelBeasts to a number that SteelBeasts can manage.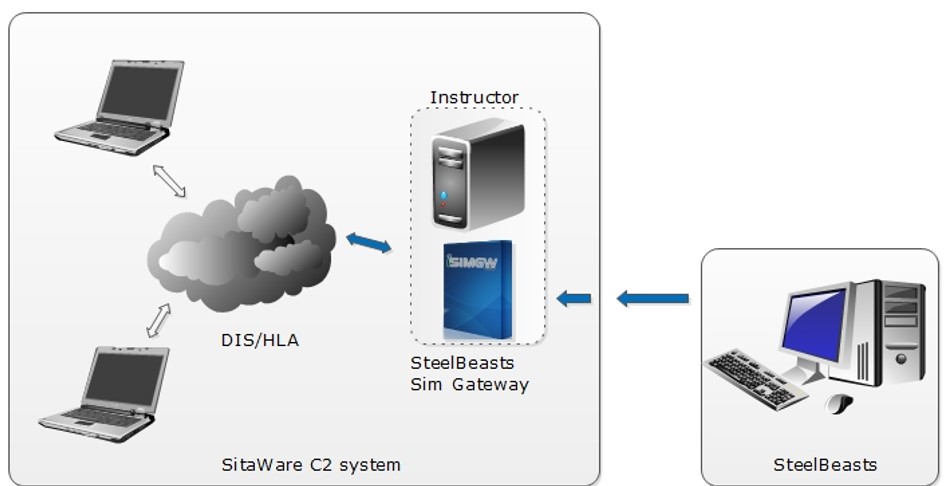 Image
SteelBeasts Sim Gateway and DIS PDU filter providing bidirectional link, filtering and simulation data mapping between configurations of Sitaware C2 battle management system and SteelBeasts armoured vehicle simulators.
References
The SteelBeasts Sim Gateway is deployed at several simulator sites in the Danish Army. More information about SteelBeasts available from e-Sim here.