BMD-Flex Gateway

Enabling Distributed Simulation
The BMD-Flex SIM Gateway enables the BMD-Flex simulator environment to actively participate with other simulators in distributed simulation exercises.

Application Areas
The SIM Gateway is used to link BMD-Flex into integrated test beds, training environments and distributed simulation exercises.

Joint multi-role scenarios including Land, Air and Naval simulators.
Integrated training environments including CMS, C2, sensor and weapons simulators, and scenario generators.
Distributed simulation between warfare training centers, training ranges and test sites.
LVC: Live, Virtual & Constructive training environments.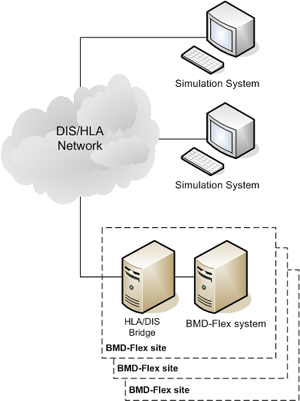 BMD-Flex operation center (ref.: Terma)

Architecture
The SIM Gateway is designed to integrate simulation assets. The gateway translates run-time simulation scenario data and simulation control data between the BMD-Flex simulation environment and an external simulation network. The SIM Gateway is installed within a BMD-Flex site and serves multiple BMD-Flex sites simultaneously.

Industrial Standards
The BMD-Flex SIM Gateway uses the Distributed Interactive Simulation (DIS) and High Level Architecture (HLA) standards for run-time scenario data exchange.