IRASComm
Simulated Radio Communication & Intercom
Communication is a cornerstone in any team training environment from low cost serious games to high end dedicated training devices. IRASComm is a highly flexible simulated Radio Communication & Intercom system designed to meet the requirements of the communication infrastructure in military training simulators.
Realistic Voice Communication
IRASComm is designed to provide realistic voice communication in training simulators. IRASComm enables communication (talk and listen) on multiple radios and nets simultaneously. The solution can be used on a stand-alone basis, integrated with other platforms through DIS/HLA or embedded into existing simulators through the Remote Control API.
IRASComm products
IRASComm is distributed together with:
IRASInstr Instructor application for IRASComm
IRASCommPanel Communication panel for IRASComm
DIS/HLA, COTS and Open Standards
IRASComm is a highly configurable software solution based on COTS and open standards. The IRASComm solution provides native voice communication support for both DIS and HLA. Each IRASComm station can be configured in DIS, HLA or DIS-HLA bridge mode.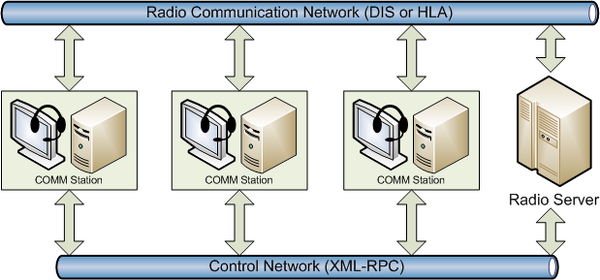 From HF to SatCom

IRASComm provides simulated communications for HF, VHF, UHF and SATCOM radio systems. The radio communication network simulates the radio signal propagation and audio effects, including background noise, SATCOM delays etc., based on various radio settings and parameters.